Veeam Velocity 2019
A new trend is developing in the channel in the tech industry.  OEMs inviting their partners to join their sales teams at their annual Sales Kickoffs (SKOs).  I have previously joined Nutanix and Splunk at theirs.  This year kicked off with Veeam's SKO which was titled Velocity 2019.  Once again, I thoroughly enjoyed this.  It's not only a great opportunity to hear the same messages their seller's are, but a great opportunity to have a couple beers with the reps, marketing teams, and various execs we work with throughout the year.  Plus I really enjoyed the location #NotVegas at the Swan and Dolphin in Orlando.  On top of the educations and collaboration, Veeam did a great job of timing out their announcements with a live broadcast from the event.  Here are my highlights from the event.
Veeam VCSP is emerging fast
VCSP stands for Veeam Cloud & Services Provider.  Cima has been a VCSP for almost two years now.  This program is designed for companies to deliver Backup and DR as a Service in a true managed services OpEx capacity.  It also happens to be the most affordable consumption model for Veeam licensing.  For example, Cima operates as the MSP here and delivers BUaaS and DRaaS leveraging VCSP monthly subscription licensing which comes free with Veeam Cloud Connect and is measured simply by the number of servers (physical or VM) you want to protect monthly.  Thus it allows you to flex each month as your server counts change.  You can also bolt on additional products such as Veeams O365 backup to your monthly subscription.  With CloudConnect in the mix, we can easily replicate data to various cloud providers such as NewCloud or Azure.
Veeam 9.5 Announcements
Veeam broadcasted their 9.5 update live from the event.  Some of the key takeaways from the announcement are: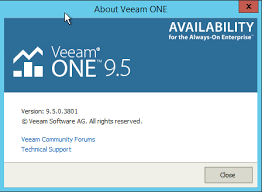 Veeam Cloud Tier now with support for Object Storage allows you to scale infinitely to various cloud storage providers as you define the most affordable data lifecycle strategy
Veeam Cloud Mobility allows you to move your data and do instant restores to various clouds rapidly such as Azure, AWS and others
Advanced Application Support this update allows to integrate existing backups from applications such as SAP HANA or Oracle RMA directly in the Veeam Portal
Veeam Data Labs - Allows you to meet Compliance standards such as GDRP for MalWare prevention with secure backups and restores that detect, quarantine and eliminate Malware
Future of Veeam
It was clear that Veeam has the vision, energy and resources to become the dominant player in this industry.  Their plans to hire over 1,500 new people in 2019, along with their vision to be more than just the niche backup provider they started as was clear.  Additionally the strategic partnerships with companies such as Nutanix, HPE, and Microsoft demonstrate that they are the clear leader in this space and gaining capabilities every day.  Oh, and if you don't believe me, check this video out.  I think it sums this up perfectly.  Enjoy.