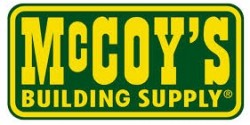 McCoy's Building Supply provides quality building products and services to their 'Born to Build' customers for over 85 years! McCoy's is one of the largest family-owned building supply companies and is very involved in their communities. Did I happen to mention McCoy's has one of the most sophisticated data centers I have ever seen?
McCoy's Building Supply started looking at renewing their maintenance on their IBM DS4800 in July 2013. Due to aging infrastructure, Cima recommended an evaluation to look at a replacement at a lower cost and expandability . Cima conducted a review of the system configuration and performance data, and presented options which would meet not only the current needs of the business, but also address the anticipated growth for new initiatives McCoy's has planned for the future.
IBM's Storwize V7000 proved to be the most logical fit for McCoy's as it provided for not only the necessary performance and growth, but also the integrated virtualization and the capability for a simplified migration from the existing DS4800 array. McCoy's was also impressed by management interface, and the fact that they could consolidate an entire rack of equipment into a 6U space, while also growing the usable capacity by 85%. The dramatic footprint reduction of more than 80% resulted in the additional benefit of savings in power and cooling.
As the Storwize roadmap was presented to them, they knew they had selected the proper solution, and they are currently evaluating how Easy Tier, Real Time Data Compression, and IP-based Replication could afford them additional opportunity for business resiliency and data management efficiency.
McCoy's has been a long time client of Cima Solutions Group and we so value the relationship we have built over the years! Learn more about McCoy's, their stores, and register for sales and promotions at https://www.mccoys.com.