Infrastructure Matters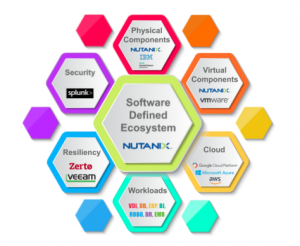 In our last blog we introduced you to the Software Defined Data Center built around the foundation that is Nutanix. With Cima being a company who grew up predominantly as a hardware company, I thought we would start with the physical layer. When I was at IBM in the early 2000 era, they had the tagline "Infrastructure Matters"and they designed some on the greatest server and storage technology money could buy. Last year, when I was at HPE Discover, I noticed that their marketing team didn't work too hard to build a tagline, rather just choosing to recycle the IBM tagline from ten years earlier. Yep, "Infrastructure Matters". But, does it really?
Yes and no. You certainly cannot run a data center without it. However, the "my hardware is better than your hardware" game is over. It you look at presentations for products such as Nimble, you will notice that there are basically zero charts on hardware. Rather, it's all about the managability, If you talk with Pure Storage, its about Price and Dedupe. Let's face it. All hardware has reliability and performance metrics that eclipse that needs of 99 percent of the needs today. So where is hardware relevant? And why do we love our key partners in this layer?
IBM
Let's start with the partner who got it all going for Cima in 2005. The IBM Power server (AS/400, RS/6000 for the old folks like me) is still a player in the market for the big reason that you can do more, with fewer cores. Thus, if you can put a workload on it, and lower licensing costs, why not do it. IBM has come a long way in actually pricing these servers consistent with the Intel market, and now provide a huge advantage... you can run Nutanix on Power. And, wait there's more...you can run AIX on Nutanix on Power! This provides the ideal infrastructure for supported workloads.
HPE
The true leader today with the most complete hardware line and roadmap. is HPE. They won't advertise this, but you can run Nutanix on their standalone x86 servers, as you can on Dell, Cisco, Lenovo etc. So for clients looking for x86 servers, why not go to the company that clearly has the most defined vision, and marketshare lead in the space. Additionally, there are still times where HCI is not all things. In particular, cheap and deep storage. Areas such as Backup, Video Storage etc. are not ideally suited for HCI and you are likely better managing an auxiliary repository via the Nutanix management system built to add on the the HCI stack. This is where we turn to the HPE line that is growing up around Nimble (Or truly InfoSight). The MSA line is still a great choice for cheap/deep, but the Nimble Secondary Flash Array is a great purpose built backup repository that offers a bit of performance when needed, and prices out more like a traditional high density repository.
Nutanix
So if you ask Nutanix, they would tell you that they are a software only company. What this means specifically, is that yes, their SW runs on most hardware. They do not manufacture any hardware. However, they do provide a SuperMicro based option branded and supported by Nutanix. This is their NX line, and it is still the default option for most clients today. So they belong in this layer despite not being a hardware company.
When we are working with clients on a POC, I still see this traditional thinking that they need the box on site. I truly don't understand why. Are you really still in the 1990's game of benchmarking performance? Most Nutanix POCs are done via the web. It's easy to simply set up a quick test environment remotely and see what the Nutanix experience brings to your data center.
So does infrastructure matter?... Sort of.
Learn more about infrastructure solutions from Cima Solutions Group. Next week, we will discuss the Virtual Layer.