Should I Stay Or Should I Go?
Cima's value proposition has centered around helping our clients get the best "Total Cost of Ownership" while achieving the most value. While most clients look at TCO during the initial acquisition phases, the reality is you should also look at it when you are weighing your renewal options. A very interesting case is with VEEAM and whether it makes sense to switch from a "perpetual" (outright owned) license to a "subscription" license.
When and why does it make sense to move to a VEEAM subscription license?
There are three primary advantages to making this change:
A Lower Annual Cost:
In an example use case, we had a higher-education client using VEEAM Availability Suite Enterprise, and it was due for renewal. Their cost to renew their perpetual license was just under $12k. Cima was able to quote the same configuration using term-licenses for $2,800 ~ nearly a 75% cost savings.
More Functionality:


VEEAM term-licenses come with VEEAM Cloud Connect included. VEEAM Cloud Connect provides a fully integrated, fast and secure way to backup, replicate and restore from the cloud. In the previous example, the higher-education client had access to VEEAM Cloud Connect, which was included in their $2,800 term-license. The equivalent perpetual license for Cloud Connect was priced at $1,800, but our client had access to it at no additional charge.

Protect from Ransomware with Cloud Integration:
The 3-2-1 rule continues to play an important role in protecting from Ransomware attacks. According to this rule, 3 copies of the organization's data should be saved on 2 different media and 1 copy should be offsite. Using VEEAM Cloud Connect, backups are taken via the same Backup Copy Job and automatically sent off to a service provider via the VEEAM Cloud Connect mechanism mitigating the threat of Ransomware attacks.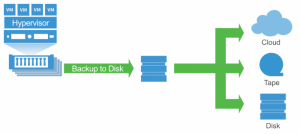 To learn more about VEEAM and their journey to intelligent data management, visit here. If you're interested in these benefits, contact us today to receive a personalized quote for VEEAM term-licensing.