Recently, I attended one of the regularly scheduled HPE Nimble storage hands-on training sessions offered in the North Texas area.  These training sessions focus on the Gen 5 updates to the product and some additional hands-on with the HTML5 Management GUI.
Nimble: A Cima Partner
Cima has been a Nimble Partner since before the HPE acquisition and the greatest achievement of the HPE merger so far has been that the outstanding Nimble support has remained top tier! This isn't always the case,  as we have been front row to several of these mergers over the years and support is often the first "cost reduction" victim. So, bravo
HPE
,  for getting (and keeping) it right for your Nimble community.
The Gen 5
updates to the product
continue to expand on the product's commitment to scalability and performance. Their foresight in design provides for in-place upgrades to allow growth from the entry level AF and HF models into the top performing model by simply replacing the controllers - no rip and replace!  And the centerpiece of the product continues to be
InfoSight
, which is being expanded into many of the HPE datacenter products.
Why Nimble?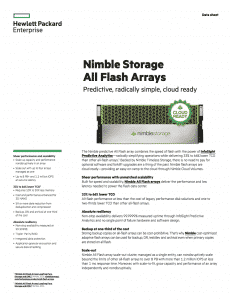 In my opinion, the one-day Nimble training class is one of the best offerings from our channel Partners. It provides us a regular opportunity to introduce prospective clients to the product, allow existing clients to get hands-on with product updates or try out new features they haven't used before, and give our sales and technical teams a chance for a refresher after major announcements.  All are invaluable to our continued success with HPE Nimble.
Download more information below: