Why Cima should be your first and last stop on the road to an Infrastructure Solution.
Having been fortunate enough to work for some of the largest, and most predominate tech companies operating in the US, one thing I know for certain - NONE of them are perfect for every need in your infrastructure.
Don't get me wrong, they all have best in class, best ranked by Gartner, best Widget software and hardware, easiest to deploy, and highest ROI. They really do, BUT that all depends upon the starting point. I've not worked with but one customer that was truly greenfield and had zero legacy infrastructure to pull along. Guess what, legacy infrastructure, even if it is in the cloud, skews all of the metrics.
This is where we come in. Our strategy is to understand where you are today, and where you want to go. I know everyone says that. The difference? We don't already have a Widget in mind when we start looking at your current state.
Have you ever seen that far away look in the eyes of your sales rep when you start explaining your issues and goals? This is going on in their head…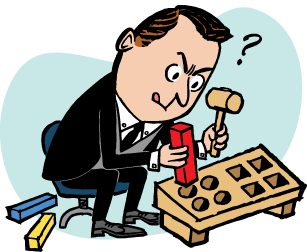 One very clear example of this according to the Cloud Security Alliance is moving ERP systems to the Cloud- the ROI looks great, in theory, but did the vendor help you think through more than just the shiny surface and dig down to see what is underneath that will greatly skew the ROI such as:
Cybersecurity breaches during migration are a high risk since you are dealing with financials, customer service, human resources and supply chain management. Putting this plan in place takes time and a guiding hand. A breach makes any ROI null and void
Does the Data Center, housing all of your mission critical data, pass all of your regulatory certification requirements or will additional time need to be added to the migration plan to complete these certifications?
Other examples, even more common in our discussions with clients, sorting through the plays of every infrastructure vendor of any size which has a cloud solution, a server solution, a HCI solution, a Storage Solution, a backup Solution, a DR solution, a Security solution and much much more. By the way, many of them have hardware and software versions of each of these so the message you will hear from the vendor is muddy due to internal competition for similar solutions.
Where we can help:
Navigating the Rise of multi-cloud - Cloud is not one size/one vendor fits all in any case. We can help you decide which cloud provider is right for which workload.
Getting Serious About Disaster Recovery - Whether your path is on-prem, off-prem or Hybrid, we can offer you insight into which technology best fits your DR strategy.
Cybersecurity - (on premise or off)- Cloud providers still operate under a "need to know" notification of a Cybersecurity Breach. We can help you with a plan to utilize the right technology to protect you WHEN there is a breach starting with your on premise infrastructure.
Cloud Costs - Especially true when moving to a multi cloud environment, we can help you define solutions to keep an eye on your overall costs and the variable price models.
Software Defined Everything - This is one of the fastest emerging markets for IT, especially around Hyperconverged Infrastructure (HCI). For instance, a report from Network World states that HCI is the "largest segment of software-defined storage." Software-defined storage (SDS) is the type of fast storage used in HCI. SDS, the article says, "… boasts a five-year compound annual growth rate (CAGR) of 26.6%, according to research firm IDC."
On Premise and Hybrid Solutions - Allow us to sort through the myriad of traditional and evolving harder solutions. We are technically certified on several platforms and can offer guidance on the best fit based on your and their roadmaps.
So..you can spend all day on the Internet trying to sort through the muck of the presentations you have received, or you can call us and we will sort through the options for you.