Reasons to Compare Cloud to Servers on Premises
We have been doing TCO analysis on platform choice all the way back to the initial days of VMWare and server consolidation, I think most people would agree, that server virtualization adds up. Today's version of the server consolidation decision involves making the right decision for your virtualized infrastructure, including servers, network, and storage. Through in the emergence of cloud and hyperconverged infrastructure and now you get a multitude of choices within each of those categories. Working with our RightCloud TCO tool from Precision IT takes much of the guesswork out of this.
What are we finding?
We are starting to see a shift to Hyperconverged Technology. This year, Gartner released its first ever HCI Magic Quadrant report. Having done a number of these analyses, it is clear to see why. Not to deliberately quote Meatloaf (but he is from Texas), but 2 out of 3 ain't bad. Usually when a client is looking to replace two of their three key areas of infrastructure, (Server, Storage, Network), and hyperconverged approach shows strong cost justification. Additionally, new standalone environments such as remote branch, vdi, or high performance analytics show a strong propensity for HCI.
What about Cloud?
First, almost always, a SAAS approach is a great option, especially compared to the headaches of standing up infrastructure, installing software, and managing version upgrades. So for items such as collaboration and email, start with a thorough evaluation of Microsoft O365. When you move to IAAS, or PAAS, more variables come into play. The two big ones are: 1) Dynamic vs. Static workloads. We find that there is a 24 month break even on cloud vs buying HW. So if you have a static workload without projected growth in particular. Cloud can be cost prohibitive. 2) Multi-tenant vs. Baremetal. This is loosely tied to the first one, but we find that if you have the option to preserve your investments in SW licensing and leverage a baremetal environment, you are better off. If you just need something quick and for a short period of time, a multi-tennant option might make sense.
How do you start?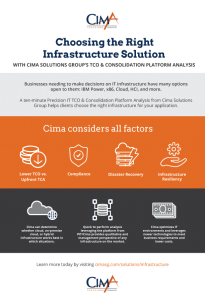 Cima's RightCloud TCO is fairly simple. Click here to learn more and follow to the form at the bottom of the page to get started today.