As cliché as it may sound, the best one word descriptor of the Microsoft Inspire Conference that I can think of is inspiring.
An Inspiring Conference:
The conference ran from Sunday July 15th until Thursday July 19th and was centered on celebrating the past year of success between Microsoft and its many partners, including us, while also focusing on and introducing the opportunities that will better enable our clients' businesses in the upcoming year.
It was a jam-packed couple of days and I can't possibly recap everything but I'll do my best to provide a brief overview of my experience.
Day 1:

This wasn't a full day of "conferencing" so I got to enjoy the morning and watch the World Cup final between Croatia and France in the Mandalay Bay sports-betting area, which was an awesome atmosphere. I was surrounded by so many other fans cheering through the entire match. Later, I was able to explore some of the Las Vegas strip, at least before it got unbearably hot. I attended the "first-time attendee" session in the afternoon, which was a great kick-off to the week. This was then followed by the welcome reception for all attendees, where we got to network and explore "The Commons", which was the vendor floor with all of the various product demos and swag you could wish for.
Day 2: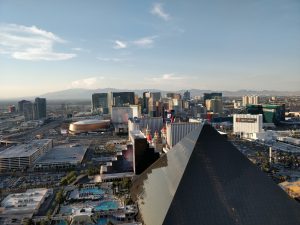 This day started off with a keynote address from Gavriella Schuster, who focused on the immense opportunity we have as Microsoft partners to drive the success of our clients' businesses through the implementation of the services available in Microsoft's growing cloud services platform. The rest of the day was spent attending sessions focused on Azure and datacenter transformation/migration to Azure. The evening concluded with a party hosted by our distribution partner, Synnex, which provided one of the coolest views in Vegas atop the Delano hotel in the "Skyfall Lounge".
Day 3:
Another day, another keynote, except this one was by Jason Zander, the EVP of Microsoft Azure. His presentation was captivating for someone who, like me, is working to learn about the Azure platform to be able to provide the best possible solutions for clients. He touched on the improvements and increased roll-out of Azure Stack systems, the recently released Azure Migrate service for assessing and migrating your on-premises VMware environments, as well as the new Azure Database Migration Service to migrate your SQL server workloads into Azure SQL Database with near-zero downtime migration. The rest of this day was filled with more technical sessions.
Day 4: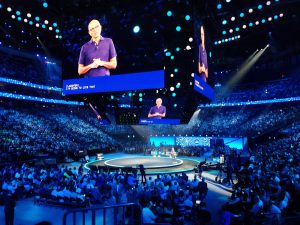 This was an exciting morning, we got to hear from Satya Nadella himself. He gave us an insightful demo of how he manages his day-to-day activities using Microsoft services, specifically the Outlook mobile app across multiple devices (I thought I got a lot of emails, but Satya's mailbox puts mine to shame). My favorite part of his presentation was how he demo'ed across multiple devices (iPhone, Android, Surface devices) yet he made it a point to refer to each of those devices specifically as "just another Microsoft 365 endpoint", highlighting the versatility and ease-of-use of their Unified Endpoint Management+Security solution. This day ended with a fun party hosted by Microsoft for all of the partner attendees as well as the Microsoft employees that were attending the internal Ready conference in Vegas at the same time. The highlight of the party was a Bruno Mars concert, which we claimed our spot an hour ahead of him actually going on-stage. And let me just say, it was worth it.
Day 5: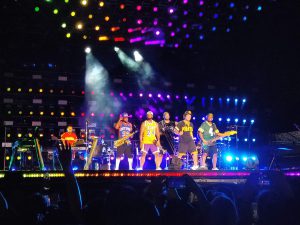 The last day of the conference was pretty quiet as many attendees had already departed the night before. The only thing on my schedule for this day was attending the "first-time attendee" wrap-up session to recap our experience of the week and discuss how we were going to take our learnings back to our clients to drive even more success for all of us working together: our clients, us as the partner, and Microsoft as the platform.
It was an unforgettable week, especially since it was my first-ever work-conference. The more I think about it, the more I realize that this trip and conference was not just about investing in me and my continuing education, but investing in our clients as well so that we can continue to provide the best solutions and services to enable our clients' businesses to flourish in the ever-adapting cloud environment.