With the amount of content being created and posted on the internet every day,  it is really important for companies to join in on the cyber action. Marketing is about making sure your particular audience sees you, knows what you have to offer, and feels comfortable interacting with whatever you're aiming to sell.
For legal firms specifically, it's important to develop and implement a content strategy to ensure that quality information is being created, presented correctly, and posted consistently. This is further explained in the 2018 ABA Marketing Tech Report/LTT article; "These days, it is common for potential clients to want to see some evidence of the lawyer's expertise before contacting the lawyer. Lawyers who simply state on their websites that they have expertise or knowledge in a specific area are going to be at a disadvantage when compared to attorneys who demonstrate that expertise with articles, video, and other content that shows that they are not only proficient in their area of the law, but that they understand the issues their clients face on a daily basis."
Another piece of interesting information that I got from this same source was that, according to their 2018 tech survey,   "One of the most powerful, and under-utilized, online tools is a secure client portal. Secure client portals can be used for consultations, host fillable forms to make intake and other information-gathering easier both for the firm and for clients, and offer document creation and sharing tools."  And for something to be "secure", you need to make sure that you're being SMART.  Which means security awareness training, managing your passwords, advanced threat protection, regularly reviewing your IT infrastructure, and two factor authentication. Small businesses often lack the necessary resources to effectively manage their IT, let alone stay current on the latest cybersecurity threats and trends,  which is where an IT Support Team, like us,  can help secure those gaps.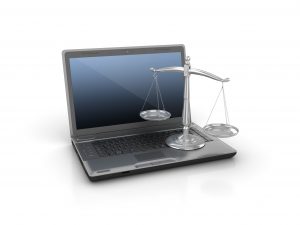 Lastly, "use of social media by individual lawyers for professional purposes remains strong, with 79% of respondents reporting that they use one or more social networks for professional purposes."  The neat thing about this report is that social media is quite convenient in this day and age. All of the apps, news engines, and logins can be accessed by the phones that rarely leave our fingertips. After figuring out which social platform works best for your legal firm (Facebook, Twitter, Instagram, LinkedIn, etc.), you can then implement tasks to engage with your audience, post regularly, and make updates with a few simple clicks. These actions further better your connections, visibility, and reputation.
The 2018 Tech Report provided some key insights and areas of improvement, particularly for solo and small firm lawyers,  and I wanted to focus on a few important takeaways and further share some marketing advice for legal firms in the modern world.