In the midst of having to stay at home 24/7, it can be hard to delineate work from relaxation time. A tactic that many use is the creation of a Calm Corner. It a super simple way to get back in touch with what is important. For you that may be meditation, prayer time, journaling, or just sitting still. This blog post will walk you through what you need to create one all your own!
The three key points to a re-centering zone are:
Sight
Scent
Sound
When putting the corner together, begin with something comfy to make it inviting. Maybe that is laying down a rug or a few pillows from off the couch. For me, I had a dog bed that my dog never uses that I had just washed and some fun pillows that I typically use on the couch. My dog took one look at the bed and marched right over to the concrete patio, so I figured I was in the clear.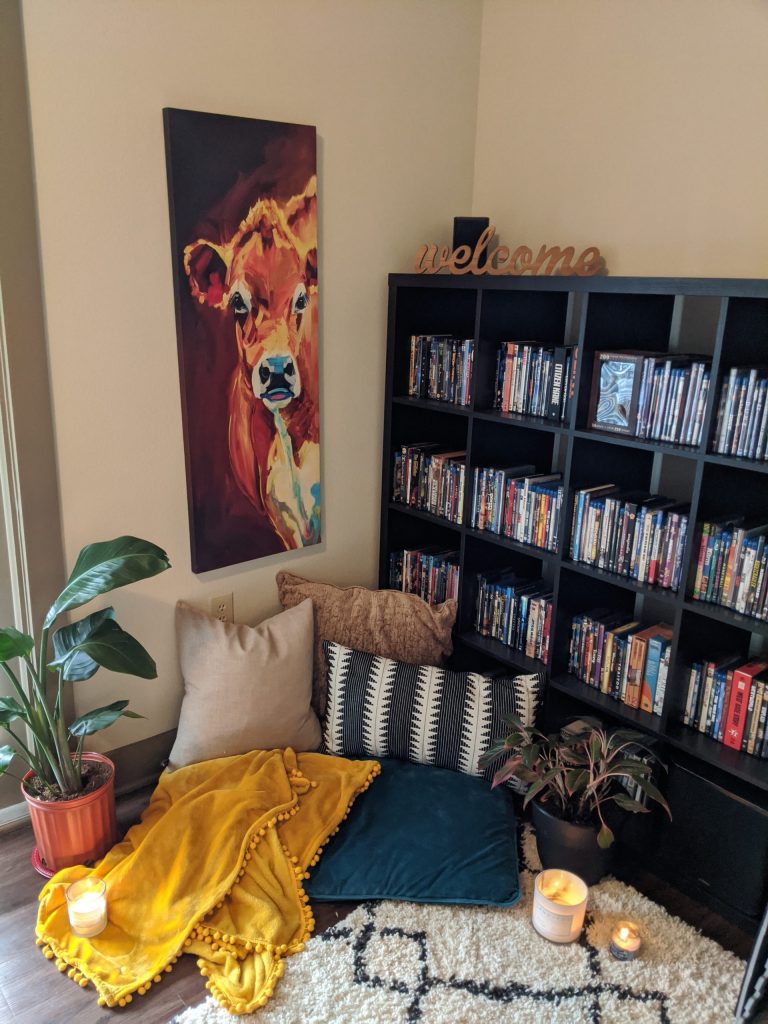 The next part to build your corner is sight. For this element, it means plants. I am currently babysitting the Cima plants in my apartment along with a plant from college named Herbert. They made for just the right ambiance to remind me of better days outside. Nature is scientifically relaxing, so some potted house plants can mimic those days in the park, right? Not only that, but they clean the air!
My favorite part of the corner is the scent element. I am obsessed with candles, so I dragged those out from various corners of my apartment to light around my corner. I picked ones that smelled like linen and lavender. When picking out a scent, whether that is Glade plug in or candle or incense, pick things that are not going to get you excited. Chose scents like eucalyptus, lavender, linen, or a subtle floral. Spicy, tangy, or vibrant scents are going to distract from the corners ability to calm you down.
The last element is sound. You can pick silence if that's an option, but if you are going to play something; stick to calming tracks. Think nature sounds, white noise, and instrumentals. The whole point of creating this space is so that you have those few minutes to just let the world melt away. Disconnecting from the things around you is a little difficult if you are jamming to your favorite hit!
This does not have to be complicated or involved. Throw it together with what you have around! It's all about taking the time for you, so definitely do not stress if your version of a calm corner looks different than mine. Share in the comments below what you used for yours or how you recenter yourself!
Stay safe everyone!