My boss, Todd Brown, advised me to share a little more information and news, and a little less self-promotion. I promise I'll learn eventually. But for now, we have been awarded a noteworthy success and I can't help but share, and thank those who continue to support our business.
Channel Futures and the MSP 501 team has included us in their #MSP501 list. The MSP 501 is the first, largest and most comprehensive ranking of managed service providers worldwide. Channel Futures received a record number of submissions from MSPs around the globe, applicants pouring in from Europe, Asia, South America and beyond, each business offering a wide range of verticals and a diverse collection of services. There were many factors that were evaluated and involved in our ranking, and I have provided some of those reasons below.
Revenue growth and business models
Hiring trends and workforce dynamics
Business strategies
Service deliverables
Business tools and automation investments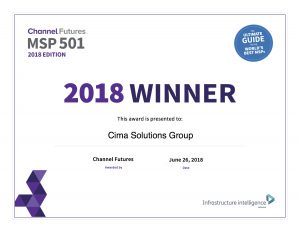 As stated in the email announcement that we received, we were given a spot in the top 501 because of our forward-thinking business strategies and our ability to anticipate and act upon trends in the fast-evolving IT channel market.
We are proud of what we accomplish here at Cima Solutions Group and are even more thankful for our partners and clients.